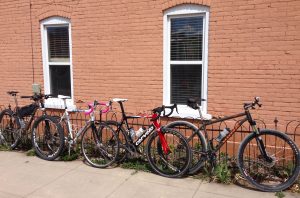 If you are an avid cyclist you likely have more than one bicycle; the right bike for the right occasion. Mountain-bikes, road-bikes, city-bikes…and all sorts of two-wheeled treats.  They are the arrows in my quiver, each with its own purpose and personality.
Over time, each bike enjoys an evolution; parts wear out, technology advances, preferences change, riding styles evolve. How each bike came to me is a story in itself, as are the names I've given most of my bikes.
Below are links to pages that describe the various bikes I ride, as well as a few of the shops and manufactures I endorse.  Please show them love and support them whenever possible.
Enjoy!
Bike Shops I Support..And Support Me