Hello and welcome to bowlingbybike.com  My name is Alex Bowling and this is a window into my world.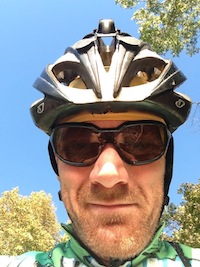 When I began bowlingbybike back in October of 2010 it was with the intention of simply recording my cycle-touring adventures so friends and family could follow along.  I also figured that I'd meet people along the way who would be equally as interested in my cycling escapades.  That has been the case and has helped me stay in touch with many of the wonderful people I've had the pleasure of meeting.
The majority of the comments I've received–both on the blog, viaFacebook and in person–are as you might expect, discussing the places I've travelled, the people I've met, the events I've participated in and even the food I ate along the way.  There has, however, been a result that I never anticipated, one that makes it all so worth while.
Just before my mother died in April of 2010, I promised her I would begin to really live my life, to travel and meet people…to do the things that truly make me a happy person rather than simply existing in a dissatisfying rut.  Thus inspired and with a small inheritance, I put my possessions in storage, had a custom touring-bike made and hit the road.  From my mother's death–and my father's in July of 2012–I finally came to realize that life is short and if we don't live it while we can, we may find we don't have the chance to do so later on…a sad story that is endured by far too many of us.  What I never expected, however, was that others would come to learn the same lesson as a result of following my blog.
I recently received a message from a childhood friend I'd lost contact with more than twenty years ago.  He said something that really humbled me; "…for the record, a lot of what you've written has given me serious food for thought and helped to frame some deep conversations, both outward and inward."
There have been others who have expressed similar sentiments and perhaps some of my ramblings have given you cause to reflect on what is important in your life, what truly makes you happy.  Maybe you, too, have made changes to your daily routine, have put living as your life's priority.
Three years ago, bowlingbybike was meant simply to be a place I could post pretty pictures and blab about the places I visited.  Never did I ever imagine it would take so many people on their own journey.  This being the case, I now know that the deaths of my parents were not in vain, that bowlingbybike serves a greater purpose.   I thank you all with every fibre of my being for honouring them, by honouring yourself.
As I continue my travels, as I continue to explore the world perched upon the saddle, I hope others will apply the lessons I've learned the past few years…will begin to live life.  'Cuz if you sit around just waiting for life to happen, you'll one day find you've got none to live.
[contact-form]