As I put together my kit for last week's five day bike-packing trip, I found myself drawing from all the advice and experience of others. From the basics to little tricks, there are always things we can learn and improve upon.
Chatting this fall with Aaron Weinsheimer in Colorado,[Story for a future bowlingbybike post] we discussed how each set-up really is specific to each trip. You must always consider things like duration, distance, climate, resources, specific personal needs and more.
For this set-up, keep in mind that I had regular resources for food and water.This trip was the first time I had nothing on my back. Oh what a relief! I was also hosted by friends on the second and forth nights. Though, the desert doesn't care how well prepared you are.
There are things I could have done lighter, like the shock-pump and whiskey flask while I did not bring any camp shoes or sandals. I'm okay with those sacrifices. A thin pair of wool long finger gloves would have been nice instead of the short finger cycling gloves.
It's impossible to have one perfect set-up for every person and every trip. It keeps changing, as the circumstances demand. But overall, I was satisfied with this set-up for this trip. Oh yeah, total weight for the bike including food and water on day one: 60lbs.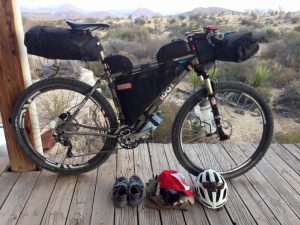 *Oveja Negra Threadworks handlebar-bag
Outdoor Research Alpine Bivy
3/4 length Thermarest Pro Plus Small sleeping pad(rolled up within the bivy)
Marmot 17degF/-8degC mummy sleeping bag
Marmot rain/wind jacket strapped to outside
Lone Star bandana strapped to outside
*Oveja Negra Threadworks gas-tank bag in front of head-tube, under stem
Toiletries
Charger/USB cables for smartphone and Garmin
*Oveja Negra Threadworks gas-tank bag on top-tube, behind stem
Multi-tool, knife, lighter
Food while riding including Cliff bars, Payday bars, dried apricots, bbq corn nuts and others as the trip evolved
*Oveja Negra Threadworks custom frame-bag
Coffee mug
Satellite phone with emergency contact list
8oz Fuel cannister
Wooden spoon, shock pump, extra lighter, headlight
Flat pack
100oz Camel-back bladder(about 80%full)
x6 packets of instant oatmeal
Passport, credit card, cash
*Revelate Designs gas-tank bag on top-tube, against seat-post
Tools and lube
Spare parts
*Revelate Designs seat-bag
Jetboil Flash stove with Via instant coffee packets and other food stashed inside
First-aid kit including water purification tablets
Lunch and dinner food including instant noodles, parmasan cheese, peanut butter, bagels, hardboiled eggs and others as trips evolved
Small whiskey flask
Extra clothing:
Sugoi tights
Mizuno beanie
x2 pair thin wool cycling socks
Polartec Windpro gloves
Sugoi long-sleeve base layer
Peak Performance puffy jacket
*Wearing while riding:
Cycling shoes
Thin wool socks
Sugoi bib shorts
Quick drying shorts
Patagonia long-sleeve button-up shirt
Thin short-finger cycling gloves
Lone Star cycling cap
Watch
Helmet
Sunglasses
*Other
Water bottles on both fork legs
Water bottle on 3rd frame bottle mount
Mini-pump attached to 3rd bottle mount
Garmin 520 on stem
Ay-Up light and battery on stem